Post by Chris Wright on Jul 28, 2015 14:16:38 GMT
Lotus 11, Sports, Series 1, The Yellow Peril
year 1956 Chassis No. 208
When Colin Chapman decided to put all Lotus' efforts into one race machine for the 1956
season, it marked the beginning of an epochal era in sports car racing. This car, of course,
was the Lotus Eleven, and it would reign supreme right up until 1959 and wasn't challenged until
the appearance of its first real rival, the Lola Mark 1. Like the Mk XI it replaced, the Eleven notably
was the first Lotus to have no 'Mark' prefix. The "Eleven" employed a multitubular, spaceframe
that was both stiffer and lighter than previous chassis, while the beautiful Frank Costin penned
coachwork no longer featured prominent tail fins and overall was far more compact.
Designed to compete at all levels of motor sport, three versions of the Eleven were
available: Sports, with the 1,172cc sidevalve Ford engine, a three speed gearbox, swing
axle front suspension, live rear axle located by parallel trailing arms, rack and pinion
steering and all round drum brakes; Club, which differed in using a CoventryClimax,
single overhead camshaft, 1,098cc FWA engine and four speed Austin A30 (later MGA)
gearbox; and the Le Mans which boasted a de Dion rear axle with trailing arms, all round
Girling disc brakes, mounted inboard at the rear, wraparound driver's screen, passengerside
tonneau cover and headrest fairing, while power was provided by the FWA engine or
the 1,460 FWB unit.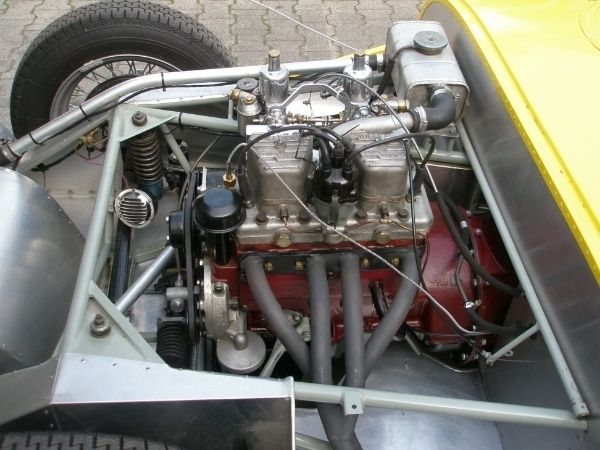 Success on the track was immediate and the Eleven attracted many great drivers,
including Chapman himself, Mike Hawthorn, Cliff Alison, Graham Hill, Archie ScottBrown,
Innes Ireland and Roy Salvadori, while late in 1956 Stirling Moss established
three new International Speed Records with an Eleven. That year's Le Mans 24 Hours
also saw an Eleven winning its class and finishing 7th overall; in 1957 another Eleven
again won the class and finished 9th overall, whilst all four Elevens which had started
had also finished. In the same race ten Ferraris started but only two finished, Maserati
had only one finisher out of five, Porsche one out of six and Aston Martin one out of four.
Not only was the Lotus quick and agile, it also lasted. The Eleven, too, was the car which
established Lotus as the world's premier manufacturer of small capacity sportsracing cars.
Assembled by none other than the legendary Graham Hill over April/May 1956 when he
was working as a mechanic at Lotus Engineering in Hornsey, London, this famous
Eleven Sports was originally campaigned in the 1,200cc class of the Autosport
Production Sports Car Championship. Hill had raced for some years and shown his mettle
behind the wheel but without the money to buy his own car he had taken the job at Lotus
as a way of keeping close to the racing scene.
The car was thus partfunded by Colin Chapman in return for its use as a works car Hill
would very successfully race other works Elevens right through 1956 and the future World
Champion gave his own Lotus its race debut at Oulton Park on June 9 the same year;
he raced it at a further eight meetings that season and in nine races finished on the podium,
four times in first place. It is very likely, incidentally, that the then relatively impoverished
Hill drove the car, registered from new as XJH 902, to and from these race meetings.
Subsequently the Lotus was displayed at the British Motor Show in October 1956 and was used as
demonstrator at a Guild of Motoring Writers test day at Goodwood in November, after which road
test reports appeared in Autosport on 23/1/56 and Motor Sport in February 1957.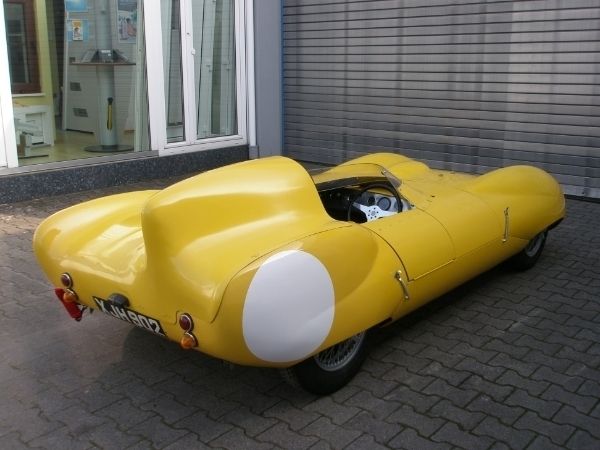 For the 1957 season chassis 208 was purchased from Hill by Ian Walker who fitted the
engine with a Willment overhead inlet valve cylinder head conversion that boosted power
output by some 20bhp. Walker raced the Eleven successfully at several meetings, results
including victory at Mallory Park, Brands Hatch, plus 4th overall and first in class in the
Snetterton 3 Hours, all of which helped him to win the Autosport Production Sports Car
Championship and the Lotuseer Cup; he also entered the Lotus in sprint meetings,
amongst which he took a class win at the Brighton Speed Trials.
At the end of the end of the year the car was advertised for sale for £955 and sold to Don
Le Clus who took it to Rhodesia and raced the Lotus for two years. He in turn sold the car
to Bobby Duncan who changed the colour from yellow to British Racing Green before
campaigning the Eleven for some four years. When Coventry Climax engined examples
began to appear, however, chassis 208 was, inevitably, no longer competitive and the
100E engine replaced by a 1,340cc, 109E Ford Classic motor with twin Weber 40 DCOE
carburettors; around this time the time colour was changed to a sky blue shade with the
headlamp covers painted white. In 1966 the car, now with a blown engine, passed to
David Pinder Brown who already owned a Lotus Eleven Le Mans, chassis 286, the FWA
engine of which was fitted to chassis 208.
Subsequently, the car was sold to Ivan Glasby in 1970, before being acquired by Roy
Kemp the following year who sold it in 1995 to Jannie van Aswagen, the latter managing
to reunite the Eleven with its original 1,172cc sidevalve engine, complete with the original
overhead inlet valve cylinder head; the cylinder block, however, was cracked and this was
replaced with another period casting. Van Aswagen entrusted organisation of the
car's restoration to ex Lotus and ex Jim Clark mechanic Cedric Selzer, who also bought a
fifty per cent share in the car, and chassis 208 was then shipped from South Africa (the
primary reason being a lack of suitably skilled craftsman there capable of restoring the
aluminium body) to Great Britain; this latter work was entrusted to Fred Fairman in Cornwall
who was reportedly overwhelmed by the originality of the Williams & Prichard produced
panels, 75 per cent of which have been retained on the car. It was also prior to the
restoration carried out between 2002 and 2007 by well known Lotus specialist Mike Brotherwood,
with paintwork by Sovereign Coachworks carefully applied to give the illusion of age that
both Ian Walker and his mechanic from 1957 confirmed the car to be without doubt The Yellow Peril.
Importantly, given that not one Lotus Eleven chassis was ever stamped with a chassis number,
the car still bears its original chassis plate.
PROGRESS SO FAR
Based on a AA Bodies fibre-glass shell I've had for 6 years, considerable changes have been made.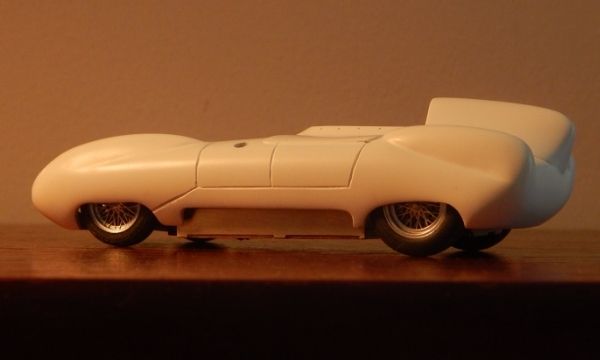 Side view showing fairly good stance could do with a little more lowering, note exhaust cut-out.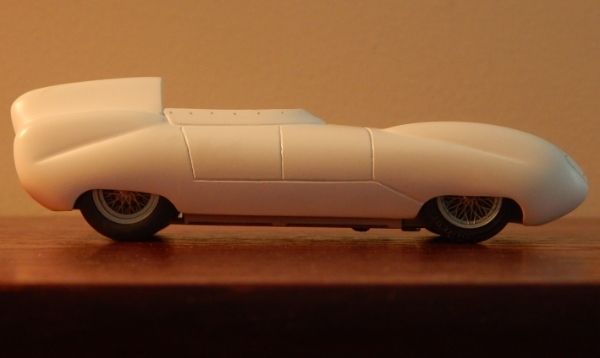 View from other side, note rivet holes, windscreen has been cut out, next is the installation,
the part that I dislike the most.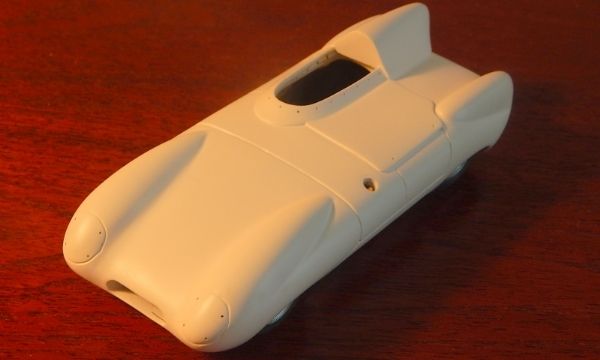 The original cockpit has been filled in, and a new one constructed complete with headrest.
Yet to be fitted is the bonnet bulge that covers the OHV cover and SU carbs.
Penelope Pitlane Lowline Clubman chassis is a good fit, fully soldered together, wheels are
Scalex Ferrari 156 with Scalex rear tyres, and FPF fronts. There's still room to hog out some
more fibre glass to get the wheels fully submerged into the body.
Even though this car is fairly small (it's 1/8" too long, wheelbase & width spot on) it still looks huge next to my Lotus 25 models, everything is relative I suppose. More later as the build progresses.
David Lawson, how's the progress on yours going? I'd love to see it finished.